Request an Essiac Brochure
This is the place where you can request an essiac brochure. Although this website is the ultimate essiac tea resource, you may wish to have an informational brochure to flip through when you're away from your computer, or to have on hand as a quick reference for all things essiac! 
Although this website is loaded with information, it can be overwhelming; you may want something more consolidated with only the most important essiac tea information. Or, perhaps you would like to request an essiac brochure for someone who may not go on the computer often. You can even hand out brochure to friends and family who might be curious about essiac.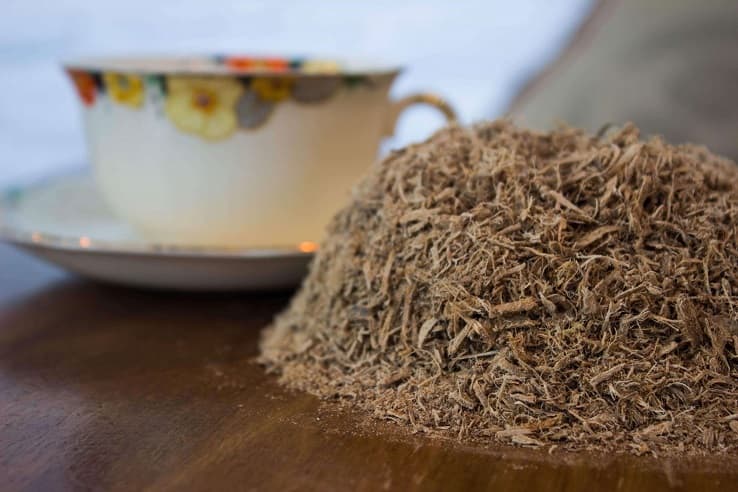 Our brochure has all of the most important essiac tea information all in one place.
Get Your Essiac Tea Brochure Now
You can get INSTANT ACCESS to this brochure for your viewing and printing by clicking here: Get Your Essiac Brochure Now.
If you would prefer for us to send the brochure in the mail to you, please fill out the form below.

We *promise* we will not use the address for any purpose other than sending this brochure. If you would like us to contact you again in the future, please sign up for our Special Essiac Tea Offers and Essiac Tea e-zine.


Simply fill out the form below to request an essiac brochure mailed or emailed to you!
Our brochure has the most important facts from our website included. However, all of the content on the brochure is shown on this website, and then some more! But the brochure certainly is handy if you want to hand them out (pardon the pun!) or if you don't like reading on your phone or computer. 
Although the brochure provides ordering information, the best way to order is right on our website via the secure shopping cart. Simply click here to order. We take all major credit cards as well as PayPal and Amazon Pay. If you do prefer to mail in your order, you can use a check or money order. We ship to every country in the world even though a few of the countries might indicate that they don't have a shipping option on our shopping cart. If this happens, no worries - just contact us. We'll get it straightened out for you, and we apologize in advance for the inconvenience.
Although we have some testimonials in our brochure, we have a much more extensive collection sorted by alphabetical order on our site: Testimonials. This is the best place to read the personal anecdotal accounts from our customers.
Visit our Facebook Page: Bulk Essiac Tea
---
Disclaimer: Essiac is not FDA tested and has not been FDA approved as a treatment or cure for any health problem. We do not represent it as such on this site. You must determine whether essiac is a product you should pursue. We have provided accounts and descriptions that represent the opinions of a variety of experts as well as actual users of essiac. We believe that our formula is the best essiac formula being sold in the world. However, we do not endorse anything on this site as medical fact.
Sign up for our Newsletter and Get Your Free Gift Now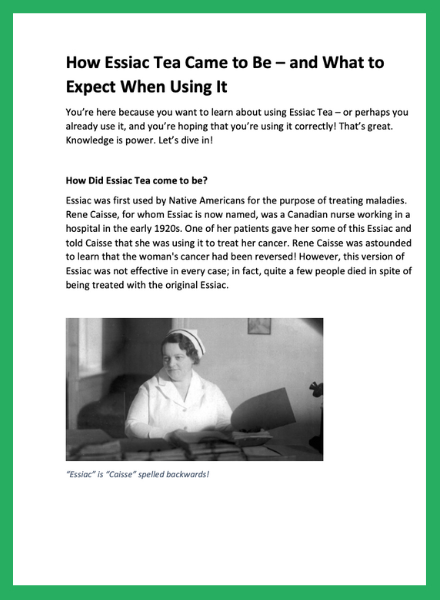 We promise that we will never use your contact information for purpose other than to send you the Newsletters. You will maintain the right to unsubscribe from these e-mails at any time. We never share your information with third parties.