These 6 Reasons Are Why You Should Choose the Bulk Essiac Tea Formula.
1. We have made no changes or compromises to our essiac tea formula over the years - you're simply getting the very best organic essiac tea that money can buy.
Many essiac companies out there have made changes to their formula to improve the taste and texture - but at the expense of effectiveness!

We provide you with powdered herbs, which is more expensive than sending whole herbs. But, the powdered herbs mean that you can ingest them along with the tea and you get all the beneficial properties of the herbs. Ingesting the herbs is much better for you than just drinking the tea - similar to how eating an whole orange is better for you than just drinking the juice. This is exactly how the Ojibwa Indians took essiac as they don't waste anything or throw anything away. It's also how Rene Caisse gave essiac.

Here is the letter showing that we have the correct formula: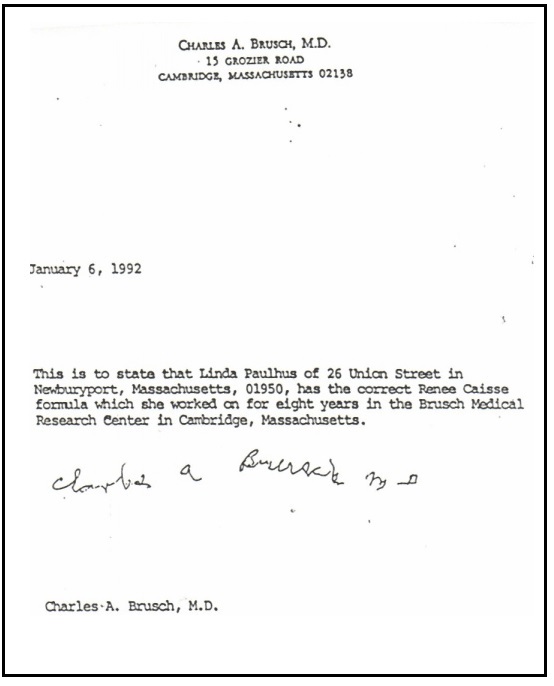 2. Our business can ONLY succeed if we have repeat customers - which means that our livelihood depends on us delivering the highest-quality, best essiac tea every single time.

Some businesses succeed by selling just one order to millions of customers, and they don't care if those people aren't satisfied and never order again (Think, "fitness infomercial ab lounger." Lots of people buy it once, but no one ever buys another!) Advertising online costs a lot of money these days. We always lose money on a customer's first order. But that's okay with us, because we are confident you will get such great results with our essiac tea formula that you will continue to buy more and refer others to us as well! Feeling healthy is addictive!

3. That's why we would NEVER give you anything other than the authentic essiac tea formula, no matter how much it costs us to supply you with it.

Cutting corners wouldn't do us any good, because our primary goal is to have repeat customers - and the only way to do that is to deliver a high-quality product, every time! In the supplement industry, many unethical businesses replace high quality ingredients with cheaper ones to save money and increase profits. We would never do that, number one because we CARE, but number two because we rely on repeat business!

We also refuse to cut corners on customer service. Although it costs more to offer phone, messenger and e-mail support 7 days per week, we are committed to being 100% accessible to you so that you feel comfortable and have all of your questions answered. We understand how it feels to have a health problem or have a friend or family member who is sick - we have been there. We won't let you down when you need support the most.

4. We REFUSE to use marketing ploys and scare tactics to entice you to buy our essiac. Rather, we offer the lowest prices ANYWHERE alongside a Money-Back Guarantee.
You will never see big "sales" from us, but what you WILL find is low prices every day. We refuse to perpetuate myths and misconceptions or other "scare tactics" to justify charging higher prices like some other companies do. We realize that it is scary to have a health problem and wonder what type of treatment is best. We also realize that it can be confusing to know which essiac to buy. We simply want you do be informed and to settle on the best essiac tea formula and dosage for you, which is why we freely offer our advice and guidance based on our experience.
Rather than use misleading marketing ploys, we simply stand behind our product's value. We take all the risk AWAY from you with our 100% Money-Back Results Guarantee and our 110% Price-Match Guarantee. We want you to take NO RISK by trying our essiac. We want all the risk to be on us - you have enough to worry about without having to worry about getting "scammed" with essiac that doesn't work! If you think about it, having this Guarantee flies in the face of logic when you're talking about severe illnesses. It's unheard of - when is the last time you've seen an herbal tea, vitamin or other substance Guarantee that your health will improve or your money back?? That is how confident we are in our essiac! If only you could be on our end of the phone when we hear how happy people are that they are getting better...then you'd understand exactly why we are so confident!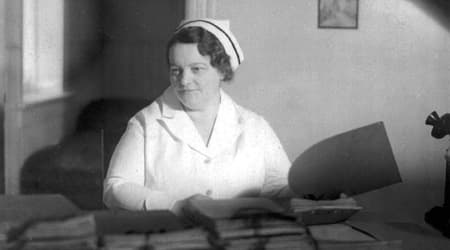 Rene Caisse, the Canadian nurse credited with bringing the essiac formula to the greater public.
5. We REFUSE to resort to "half-truths" about essiac.
When companies claim they have the "original essiac" or "authentic essiac" or "Rene Caisse's four herb essiac" they are telling you a half-truth. YES they might have the "original four-herb formula," but what they DON'T tell you is that the "original four herb formula" FAILED to give as good results as our eight-herb formula.
To read more about the
most recent clinical trials on essiac, click here.
By choosing our eight herb essiac tea formula rather than the "original" four herb formula, you will get what you REALLY NEED - the essiac that Dr. Brusch and his research team found to be most effective.
Click here to see our photos of Dr. Brusch.
6. Our customers are willing to talk to you in person if you have questions or concerns!
Our customers are so thrilled with our essiac tea that many of them have told us they are available by phone and e-mail to talk to anyone who has questions or wants to share experiences. In many cases we can match you up with a person who has had a similar health problem.
Click here to contact us if you would like to request contact info from people who have used our tea.
Click here for
answers to Frequently Asked Questions about essiac.
Click here to
contact us
if you would like phone numbers and e-mail addresses from our customers who have agreed to talk to others about their experience with our essiac tea formula.
Hear Why Eight Herb Essiac is the Best Kind In This Video
Purchase your own supply of essiac tea today. It's the same essiac Rene Caisse used.
Essiac tea takes just 10 minutes to prepare once every two weeks. It costs less than 75 cents per day to use.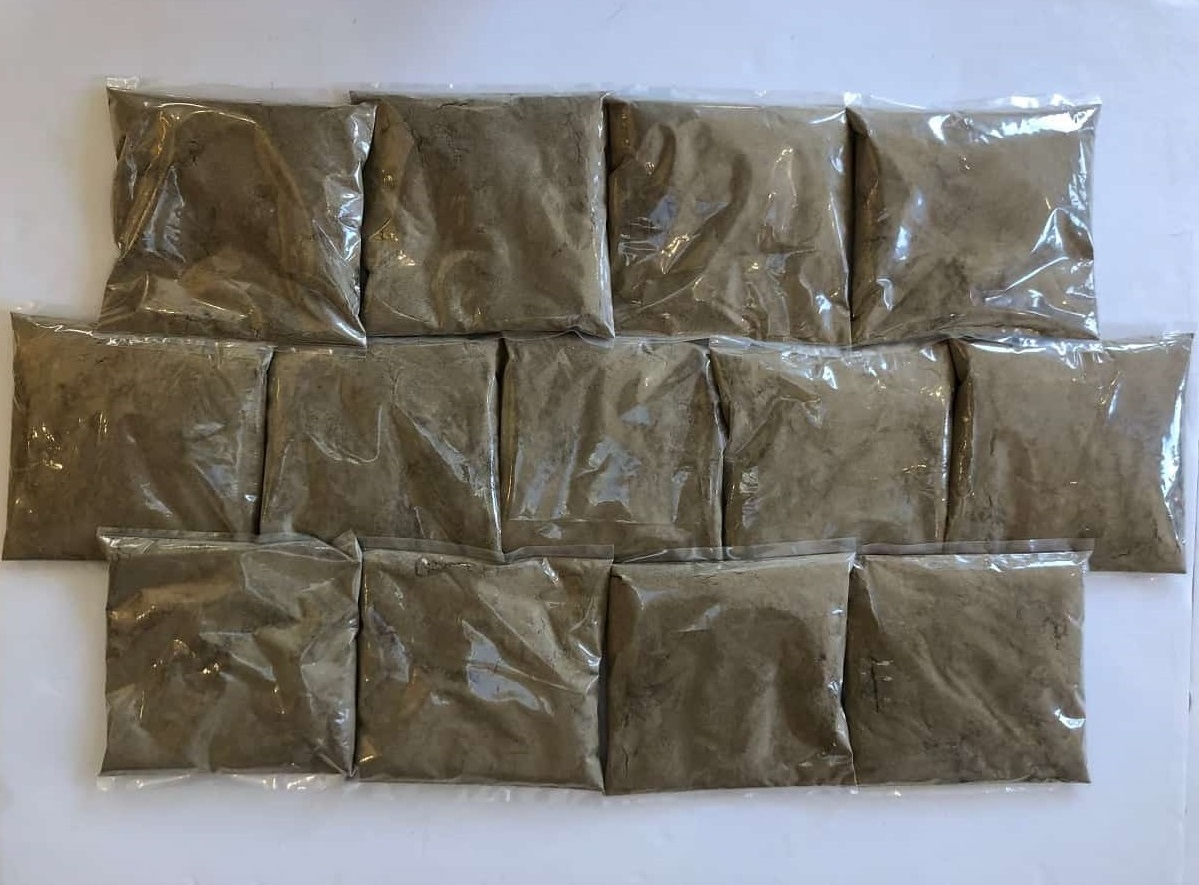 Click here to order our most popular size of essiac: the six month supply at aggressive/improvement of health dose for $164.97. It lasts 9 months at the maintenance dose.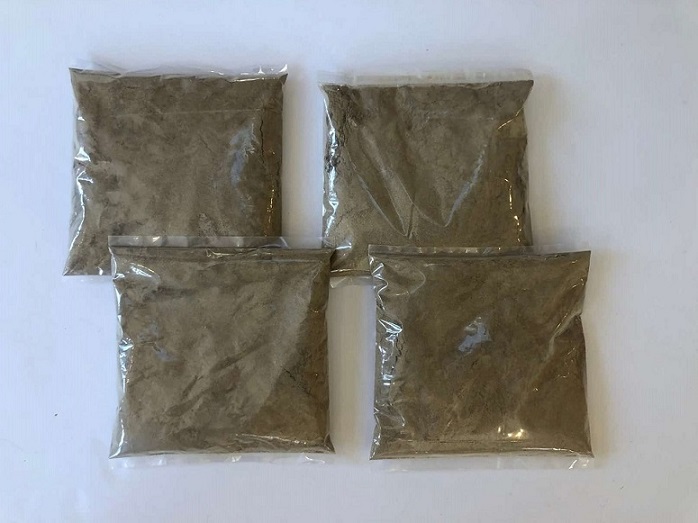 If you'd rather start with a smaller supply of essiac, you can purchase it here for $58.27. This lasts two months at the aggressive/improvement of health dose, or three months at the maintenance dose.
Sign up for our Newsletter and Get Your Free Gift Now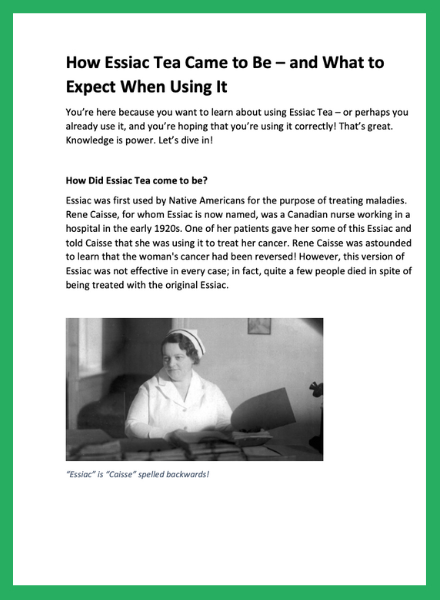 We promise that we will never use your contact information for purpose other than to send you the Newsletters. You will maintain the right to unsubscribe from these e-mails at any time. We never share your information with third parties.