Vary your essiac tea dosage according to your current health status.
Generally, vary your essiac tea dosage based solely on seriousness of your health condition. Always adjust your dosage according to your individual needs and tolerance if necessary. Some folks feel best when they start with one dose per day and build up to two or three over a week's time, but most tolerate the initial 3 oz. of tea three times per day right away just fine. 

The essiac dosages we're suggesting here are in ounces of brewed tea.

-If you need brewing and dosing instructions in metric, click here. 

-If you need essiac tea dosage for children, click here.


All doses should be taken on an empty stomach. Essiac was tested on people with an empty stomach, and this will ensure maximum absorption of your essiac tea dosage. This means you should avoid eating for 2 hours before and 1 hour after taking essiac for best results. Example: Eat breakfast at 7am. You can have essiac at 9am. You can have a snack at 10am. You can have essiac again at 12pm. You can have lunch at 1pm. Etc...



Aggressive Dose
Most individuals choose to take the aggressive dose because they are drinking essiac tea in an attempt to improve their health. An aggressive regimen is required if you expect your health to improve dramatically.
Recommended aggressive dose of essiac tea is 9 oz. per day of brewed tea, taken in three separate 3 oz. doses. You cannot take 4.5 oz. twice per day and expect the same results.
You should commit to the aggressive dose for 6 months before you attempt to determine whether essiac is of benefit to you. Some people notice a benefit almost immediately, but it takes others up to 6 months to notice an effect. We ualso cover our product with a six-month Money Back Guarantee.



Aggressive PLUS Dose

Aggressive PLUS dose is 6 oz. of brewed tea taken three times per day. This dose is appropriate for anyone that needs the strongest possible dose due to being told they have less than six months to live (as essiac can take up to six months for full benefit to appear), or for anyone that is currently receiving chemo or radiation treatment.



Maintenance/Preventive Dose

You might choose to take the maintenance dose if you are currently enjoying good health and simply wish to maintain your health.

Recommended maintenance dose of essiac tea is 6 oz. per day, taken in two separate 3 oz. doses.

Most people choose to remain on the maintenance dose indefinitely. If a health problem develops they then switch to the aggressive dose for a little while.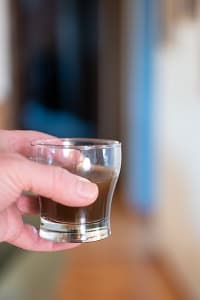 No matter which dosage level you choose, this paragraph is important!
Why is there "sludge" at the bottom of my container after I've brewed my tea? Can I throw it out?
The herbs are important to consume as part of each dose. Therefore, please do not strain and throw out the particles at the bottom (some describe it as "mud"). It's important to get some of these particles into each and every dose. The most effective way to do this for most people is to use a large wooden spoon to stir the pitcher before pouring each dose. You can leave the lid off your container while it's stored in the fridge to make this more convenient. Stirring tends to work better than shaking especially when the pitcher is full.
Click here to read about the top risk factors for developing cancer
still need more assistance?
Click here to read more about determining the best essiac tea dosage for you. 


After doing a bit of research and consulting with your health practitioner, you should be able to find the dosage level that is most appropriate for you. Be sure to check back with us for dosage recommendations as your condition changes - hopefully for the better!
---
If you have any questions regarding the preparation, use, and storage of essiac, please visit our frequently asked questions page for an instant answer to your question. If you don't find the answer you're looking for, please contact us.


---
Disclaimer: Essiac is not FDA tested and has not been FDA approved as a treatment or cure for any health problem, including cancer. We do not represent it as such on this site. You must determine whether essiac is a treatment method you should pursue. We have provided accounts and descriptions that represent the opinions of a variety of experts in the alternative treatment world as well as actual users of essiac. We believe that our formula is the most effective essiac formula being sold in the world. However, we do not endorse anything on this site as medical fact.